What is S.A.F.E.?
The Student Awareness of Fire Education (S.A.F.E.) Program is a grant program to local fire departments designed to put trained firefighter-educators in the classroom to conduct fire safety education programs in grades Pre-K through 12. The primary mission is to enable students to recognize the dangers of fire and more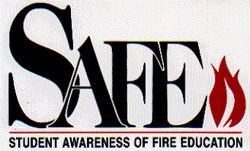 specifically, the fire hazards that tobacco products pose. Through the S.A.F.E. program, firefighters are trained as public educators to deliver age-appropriate fire and life safety lessons in close coordination with classroom teachers and health educators.
Department of Fire Services Training
The credibility of the S.A.F.E. Program rests on properly trained firefighters. The high quality of the fire and life safety education specialist is the foundation of the S.A.F.E. Program. The Massachusetts Firefighting Academy offers a variety of training programs for fire educators, including a weeklong class, Public Fire and Life Safety Educator that is based on the standard set out in the National Fire Protection Association's Standard 1035 Professional Qualifications for Public Fire and Life Safety Educator. In addition, the Public Education Unit in the Office of the State Fire Marshal provides programmatic support to local S.A.F.E. Programs through in-service training, site visits, and technical assistance.
Our Public Fire and Life Safety Educators
Captain David Martell, Lt Rick Phillips, F/F Ashley Marks, and F/F Matthew Roderick.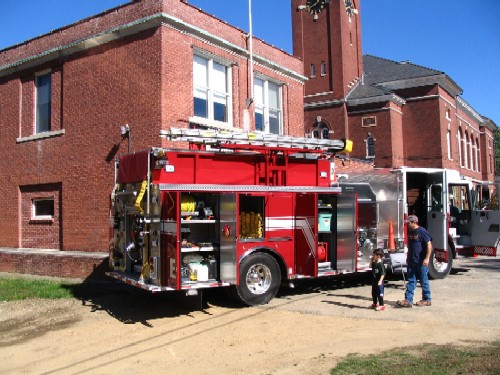 Fun Fire Safety Education Sites for Kids
The Senior SAFE program was created by the Legislature in the FY '14 budget. It is a grant program to local fire departments to support fire and safety education for older adults, those most at risk of dying in fires in our state. Senior SAFE builds on the successful 19 years of the school-based Student Awareness of Fire Education (S.A.F.E.) Program that has reduced the average annual child fire deaths by 72%. The fire service expects to have a similar impact for older adults.
Some of the fire and burn risks for older adults include cooking, smoking, home oxygen use, electrical and heating dangers. In addition, Senior SAFE aims to improve the safety of older adult homes. Programs may include the installation of smoke and carbon monoxide alarms, testing and replacing batteries in these devices, the installation and checking of house numbers, high end heat limiting devices on stoves, in-hood stove fire extinguishers, nightlights, and other fall prevention interventions where needed to provide the at-risk older adult population in the community. In addition to installing any of these important safety devices, education specific to their circumstances is a crucial component of improving the safety of older adults at home.
The Senior SAFE Program is designed to create a partnership between the older adults and fire departments through established providers of senior support services such as the Council on Aging, Senior Center, Visiting Nurse Association, or other similar agencies.
For more information please call the fire station at 508-867-7306 or contact us.